This year I have a few resolutions about being creative.
2009 is going to be my Year of Colour, I've decided. I'm going to learn how to do proper stranded colourwork, and I'm going to do lots of it :) I think starting with small projects will be best. There's some mitten patterns I want to try, and scarves. I can't go too wrong with those, surely :) Heh, refer me back to this page later in the year, when I'm sure I'll be whining about how hard it is, and how I messed it up!
I want to get good enough to be able to knit a full colourwork sweater. The sweater might not actually get made this year, but my aim is to improve my skills so that I would be able to, if I wanted. That sounds just vague enough to be acheiveable! :)
I also want to do more drawing. I was looking at some of my old pictures last night (yeah, I'm such a party animal!!), and I realised I haven't actually drawn anything for at least a couple of years! I like drawing and I have a ton of art supplies, so I want to draw at least a little this year.
It would be good to improve my sewing.
I want to do more things on my
101in1001 list
, but that's kind of already resolved, so it doesn't really count :)
I also want to improve my photography, and to get a new camera. I think I mentioned yesterday that I'm taking a class later in the month about digital photography and photoshop. I don't know yet if I want a digital SLR camera, or just a fancy point and shoot one. I don't really know enough about cameras to know if I would need all the functions on an SLR. I think I'll need to get digital cameras for dummies and swot up!
Oh, nearly forgot! I also plan to get a drop spindle (hopefully next week) and start playing about with making my own yarn! That should be fun and interesting!
But yeah, the main resolution is to knit more (any!) colourwork. I'm a little sick of thinking it's beyond me, so I want to kick colourwork's bottom and learn to do it.
Happy New Year everyone! I hope 2009 is happy, productive, and full of good things for you all!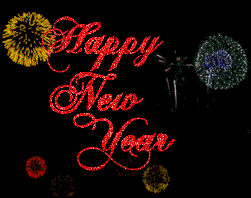 glitter-graphics.com